The Institute
The German Institute of Health Legislation (DIGR) was founded in Berlin in March 2006 as a competence centre in the value system of the health constitution to promote the well-being of patients and an efficient health care system.
DIGR sees itself as an independent academic establishment, characterised by a market-based and liberal approach. Its objective is a free and fair health care system based on partnership. To achieve this aim DIGR is involved in the areas of research, education, consultation and sponsorship of young professionals.
Academic Director: Professor Dr. Helge Sodan
Cooperation between DIGR and the Free University of Berlin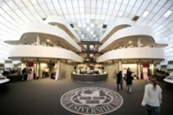 The DIGR is supported academically by the Free University of Berlin.
Besides research projects, scholarships and academic lectures it also provides information services in cooperation with other universities, academic institutions and the media.
more